Guidelines to make your order with us run smoothly
Key Elements to check over before you confirm your proof
Size - Print/Embroidery Dimensions
This refers to the sizes of the total print or embroidery. Unless you have requested exact sizes, we will work to appropriate sizes which will result in the best outcome. All branding will be the same size on all garments unless you have requested additional artwork to be made up for a specific size or range of sized garments, or you may have corporate guidelines we need to follow. Getting it right is our main aim.
Colours
If you have provided a Pantone colour reference, we will colour match as close as possible. If no colour ref is not supplied, we will choose a suitable match.
Visuals
The visual that you will receive is of a generic garment on which we will place your logo in the approximate position. It is intended as a guide only and is not to scale in. Seams zips and other branding will dictate the logo placement. Please double-check all aspects of the visual including colours, size, spelling and fonts used before confirming the quote and visual.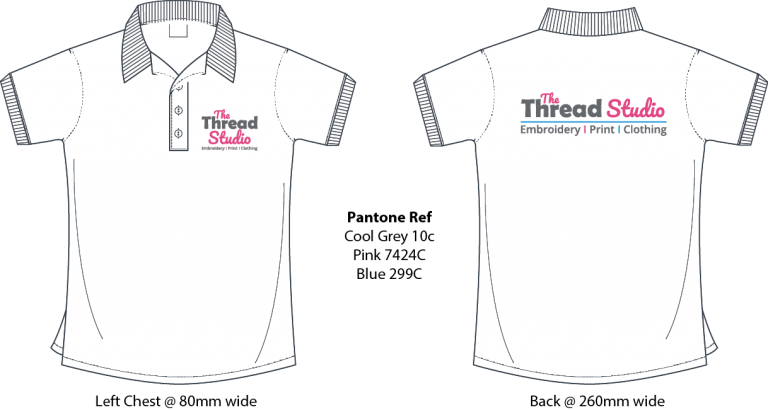 Popular logo placements and sizes

FILE REQUIREMENTS AND LOGO DIMENSION GUIDANCE
EMBROIDERY
File Requirements

M

ost files formats are OK, but need to be 300 dpi or above to make digitising the embroidery file easier.

Chest Logo Size

between 8 and 10 cm wide the same for a yoke logo

Sleeve Logo Size

These are smaller due to the sizes of the garment and being able to fit them onto the embroidery machine. Especially for ladies' and children's garments, there are limitations we will advise.

Cap Logo Size

limit of 5 cm max height.

Back Logo Size

26 cm wide.

When embroidering lettering the minimum height is 6 mm.
Other placements are possible, but the garments do limit where the embroidered logos can be placed.
DIRECT TO GARMENT - DTG
File Requirements

Our printers use hex chrome print format, which is CMYK RGB. Artwork files need to be saved as RGD adobe format .AI or .EPS

Size

Maximum print size is 38cm x 48 cm (14 x 18 inches)

(dependent on the size of the garment)
This process is best for Back or front prints on t-shirts, polo, hoodies and sweats and Bags
VINYL PRINTING
| | |
| --- | --- |
| File Requirements | This process needs Vectored artwork for the plotter to cut the vinyl. .AI or .EPS files are needed. |
| Size | The maximum size is 36cm x 48cm for general back prints. Smaller size prints can be placed in most areas on the garment. But some restrictions apply |
DIGITAL TRANSFER
| | |
| --- | --- |
| File Requirements | All file formats are OK to print transfers. But again if supply raster images such as .Jpeg it needs to be a minimum of 300 dpi. The finished transfer is only as good as the artwork supplied. So no web images or screen shots. |
| Size | Size up to max A3 |
Minimum order of 25 (smaller runs can be ordered, but not cost-effective). Cost price breaks are 25/100/500/1000
LASER BRANDING
| | |
| --- | --- |
| File Requirements | Vectored artwork is needed for this process unless it is photographic which needs to be min 300 dpi Jpeg. |
| Size | |
Using a laser for branding Fleeces materials, Soft-shell, micro-fibre and Denim have no restriction on sizes except for the placement of the logo. Works best with bold designs
SUBLIMATION PRINTING
| | |
| --- | --- |
| File Requirements | Vectored artwork is always best, but high-quality jpegs 300+ dpi work best. |
| Size | A4 and A3. |
Sizes are restricted to the polyester garment or blank promo item to be printed
SCREEN PRINTING
File Requirements

We ask that the files are separated into layer colours. If not, we can do this for a small charge. The completed artwork also needs to be sent over as a .PDF file to confirm the logo.

Size

M

aximum is 43 x 48 cm (17 x 19 inches)
maximum of 6 colours
Things to remember about your artwork.
Please send us your artwork via email or cloud storage link (e.g., Dropbox/OneDrive)
For the best results, please supply your artwork as a vector graphic such as .AI or .EPS exported with all fonts outlined as a .PDF.
Images from the internet are often only 72 dpi and because of this cannot be reproduced. The low resolution of the image makes it pixelate when enlarged, affecting the quality of the print. Saving a jpeg or png file as a vector file does not make it into vector artwork. If supplying a raster graphic such as a jpeg. It needs to be a minimum of 300 dpi. Print quality is only as good as the supplied file.
If you need to have your artwork converted, there is a small charge to do this.